Dickens of a Blog
BLOT: (14 May 2013 - 10:35:08 PM)
Blurry as puffs of smoke on a foggy day, but here's my "cameo" in the Bighead short...
Got my DVD from The Bighead movie adaptation Kickstarter, and for a short film showing off the intent to make a fuller movie, it is quite a demonstration. In other words, not work safe, not sanity safe, dirty and scatalogical and send the kids (and loved ones in general) to bed. Another part of my backer level was to submit a picture to the set which was to be one of the "Eat the 4lb steak!" challenge winner. There are a handful of winners posted around that can be seen at different times. Here's the shot involving me from about the 3m43s mark (note, it's very blurry and you almost have to take my word for it), which is one of the few glimpses you can get of my photo:
Click that to see a fuller sized edit, which might help. The image, by the way, I sent in, is this one: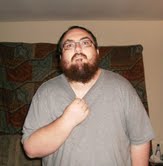 That's me looking like the sort of guy who would eat a 4lb steak in a dive bar in the kind of place where the Bighead roams. I assume that's just how I look all the time, despite not being such. At any rate, here's hoping they one day make a full movie and that they don't get sent up on video nasty laws. Fine line with The Bighead. Very fine line.
OTHER BLOTS THIS MONTH: May 2013
---
BLOT: (09 May 2013 - 03:33:08 PM)
Five Behind-the-Scenes facts from our GURPS Victorian Horror campaign
Jason and Katie Sharitt, who have been friends to Sarah and myself for better part of a decade, have left Huntsville for the Great Frozen (aka, Anchorage, AK). They have been players in a fairly long running GURPS game centered around Victorian Horror, translated in the last half to Victorian "adventure" Horror (more bombastic, a bit more action-y). There were two major plotlines going on, only one was partially exposed, and for now I'll assume the game is in pretty permanent hiatus (it started as an online, play-by-Skype, so might one day return to that depending on factors). However, to expose a bit about the game, to show a tad of my creative process, and to generally highlight elements of the kind of horror stories I was into at the time, here are five general "behind-the-scenes" facts about the game.
#1 Jago and Litefoot meet the M.R. James Podcast. One big inpiration for the game is Big Finish's Jago and Litefoot series, with some place names and character names and plot points being alluded. There are tons of other sources, including lots of Victorian stories and things from Arthur Machen and M.R. James. After making a few key references to James's "The Rose Garden" in a story about a teenager impregnanted with a demon, a pair of Victorian paranormal adventurers showed up, Will and Mike, based roughly on the hosts of A Podcast to the Curious.
#2 A New Satan for an Old World. The Dwn Aer, also known by many other names such as The Long Man, is the King of Elves, and had been glimpsed a few times as a pale human of indefinite size with eyes showing the nightsky and blood-red teeth. He fell in a meteor, wrapped in iron, and his backstory is entirely unknown. Once he got to Earth, he became the source of all magic, and divided a small portion of his power between his four sons—the Elf Lords—and his hundred daughters (basically banshees). He is being behind the game world's Satan archetypes, and shows in most every religion/mythos as a serpent [and is a shout-out, though indirectly, to Cthulhu]. The Elf-King reign was disrupted by the onset of the Iron Age. Grace, an older character with psychic powers, became infected by him in an encounter. She was to find this out over a series of nightmares when a pale teenage boy kept showing up in her dreams while excerpts from Goethe's "The Elf King" show up as patches written in dark blood [in German] on the walls.
#3 The Four Elements Gone Awry. In a corruption of the four classic elements, the Elf Lords had domain over The Wild [Fire], The Flesh [Earth], The Decay [Water], and The New [Air]. Mekmet, The Destroyer, and Lord of the Wild Hunt, was extremely cruel while Elau, the Lord of Seas [and Decay] tended to be conniving, and Farddyn, the gluttonous Lord of Flesh, was cowardly. Danedd, the Lord of Innocents, was the most complicated; he was possibly the most terrifying, but he was actively working against his brothers and was the most scientific in his machinations. Despite this, one adventure [never ran] was meant to involve finding Danedd's work on a group of missing children, where some were turned into living wasps nests while others had their skeletons grafted, while they were living, to trees. The five Elves were extreme versions of the sort of Little People that Machen wrote about, an intention of the series from the beginning. Farddyn's eyes were fleshy and his crown was of entrails while Elau's eyes were stagnant water and his crown was of coral. Mekmet's eyes were thorns and he wore a crown of great antlers while Danedd had multiple smaller eyes in his sockets and a childs-teeth crown.
#4 Other Never Used Elements. Other storylines were never used or were morphed. One included a kid's wooden Punch puppet that kept killing other kids at his boarding school. Another involved animals taken from a zoo and turned into part-machine killers. There was a night-circus where the performers had strangely dead faces and eyes that did not quite match their heads, and one involving a maze that kept growing out of the streets of London and swallowing people alive. One of the very first stories [meant to be the second], was to involve a group of rabbis raising up a golem to kill off members of a anti-Jewish group. It got split into about three parts and buried as backstory in other stories.
#5 Working with Gender Differences. Since it was easiest for Jason's philandering, gambling accountant—Ezra—to be accepted as a proper Victorian adventurer, the two females of the group had elements added in to give them a more personal take on the story. Grace—Katie's original character who retired about two-thirds of the way through—had the psychic infection. Esme—Sarah's character—not only kept her Jewish roots fairly hidden but also her potential—unacted upon, at any rate—sexual orientation under wraps. This was going to be partially explored by the presence of a tall, pretty blonde friend at college, though the friend was going to have a dark secret and attached to old adventures the group had uncovered. Something that might have a connection to a young demon child that has attached to Esme, though whether for good or evil has not yet been explored.
OTHER BLOTS THIS MONTH: May 2013
---
BLOT: (07 May 2013 - 12:39:02 PM)
Don't think I've ever seen a headline continue to get worse with every word quite this bad before...
I've just finished GOTH, the novel about teenagers brushing up with the kind of serial killers that leave organs nailed to trees in alphabetical order. Murders and plots so brutal and foul that you have to take it as kind of a fantasy novel (the author, Otsuichi, says as much himself) rather than a realistic one. Then I read the headline below and had a strange moment where every single word felt just a little worse than the last, and how could I not think of GOTH‽ Nearly every word I read was just a bit worse than the last...British man Geoffrey Portway [ok] admits plot to rape [whoa] murder [whoa] eat [WHOA] children [damn!]...equipped with a steel cage, a child-sized home-made coffin [hell], scalpels, butchering kits [HELL], freezers and castration tools [Holy Mother of God]:
I haven't even read the article. I don't think I want to read the article. Man.
OTHER BLOTS THIS MONTH: May 2013
---
BLOT: (04 May 2013 - 11:47:40 AM)
It's easy to hate on The Time Monster, but who doesn't love the Queen of Atlantis's cleavage? With some other commentary and a defense of Jo...
Here I am, meandering through another unnecessarily-six-episodes-in-length classic Doctor Who serial, The Time Monster, wondering why we spent three episodes of UNIT acting like a comedy sidekick and then had an episode of two TARDISes getting it on while Pertwee makes fake-backwards-talking, and why the technobabble started out ok but went further and further south, and then the most gratuitious cleavage in Who history shows up: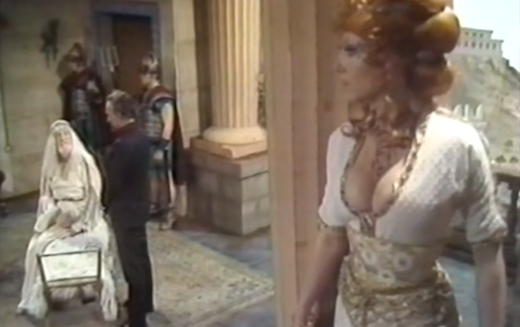 So there's that. Almost makes up for the man in spandex flapping his arms about while people scream, "KRONOS! OBEY ME!".
[Note: Ingrid Pitt is lovely and talented, and there is no disrespect meant towards her. It is interesting that an episode that starts with at least a mild nod towards feminism in science goes that deep into a cleavage shot (admittedly tame after some of Pitt's racier Hammer Studios work).]
I like the basis of this one, but they should have summoned Kronos in the first ep, done the Time Vortex stuff in the second, hit up post-Atlantis in the third, and then they could have been done in four episodes.
I imagine this one was great for the kids, though, with the phallic "time sensor", and the flappy-armed monster, and "TOMTIT" being said a dozen times, and Bessie driving around at three times film speed, and the Brigadier running in place with a bemused look on his face, and the goofy Stu making fun of feminism and then growing old and and the spinning wine bottle flashing thing. Oh, and the Benton Baby.
It has that same sort of weird inventive goofiness that was prominent in a fair number of Seventh Doctor stories, but stretches it askew and seems unaware of what it is trying to do with the script's comedic elements seeminly missed by the director [or deemed unnecessary]. Well worthy an edit. At least the Time Vortex mechanics are expanded and it probably laid the groundwork for many more later, worthy episodes with chronovores and such.
Finally, Jo Grant (and Katy Manning) never get the respect they deserve. Just about everything that people attribute to companions like Sarah Jane or Nyssa or Rose, Jo did it (to some degree) first. She argued with the Doctor, played dumb just to get him to talk to the audience, went through vent shafts for him, she risked her life to save him, and had the whole "not quite a romance, but some sort of strong bond" thing. Most every problem with her comes from scripts being stretched out 2+ episodes more than they should, and so she gets dumped to side plots that would never have been around had it been kept as tight as the Tom Baker era ownward dealt with.
OTHER BLOTS THIS MONTH: May 2013
---
BLOT: (26 Apr 2013 - 03:36:38 PM)
Gary Gutting on what science (and scientific reporting) is doing, and why it seems to go so wrong so often
All you really need to know about scientific reporting is generally summed up with the PhD comic titled "The Science News Cycle", excerpted below:
Results intended to study very specific elements generally lose specificity in each level of reporting, with conditions and margins of error being dropped off early and specific elements transformed to general ones later in the cycle. A study that says red hair gives you super powers 5% of the time if you are exposed to more than twelve space units of astroradiation has about a 50/50 chance to becoming "Why Red Hair is the Best!" on CNN or "Pastor Slams Pro-Radiation Report" on FoxNews. Probably both.
There are a number of reasons for this, from a need for spectacle to a human desire for instant gratification (how does this result profit me? HOW CAN I LIVE LONGER, RIGHT NOW!?), but can be best summed up as a mixture of Hanlon's Razor and scientific ignorance. When someone only understands something broadly [if that], they can have a hard time understanding the specifics. When people fail to understand the specifics, and how those specifics relate to the whole, they fall back on a mixture of "common sense" and interpretations that fulfill their world-view. If I say that X amount of Y is shown to trigger a Z increase in muscle response time, it is probably only a matter of time that someone suggests taking nX to get +nZ speed, though nothing like that was concluded.
Gary Gutting talks about such issues in his recent NYTimes piece: "What Do Scientific Studies Show?", and it makes for interesting Friday afternoon reading with a fair conclusion: "Studies should be reported for what they are" (paraphrased). It brings up many points worth reading and I recommend it. I did not find it to be a perfect article, the general joining of the ebb-and-flow of science to the nature of reporting resulting in ALL CAPS HEADLINES feels rough, and it puts things into a slightly odd context (like when it seems to align Vitamin D's impact on arthritis as part of the complex human social sphere). I also disagree that the impetus should be on scientists to come up with labels that are clear, in that if we—as a population—refuse to understand stuff like "correlation" and "margins of error", I doubt that we would give a flip about words like "larger-scale observational study" [likely, the same process of grinding it down to easily sold headlines would still endure]. Finally, I want to call him out for one specific error:
As Nancy Cartwright, a prominent philosopher of science, has recently emphasized, the very best randomized controlled test in itself establishes only that a cause has a certain effect in a particular kind of situation. For example, a feather and a lead ball dropped from the same height will reach the ground at the same time - but only if there is no air resistance. Typically, scientific laws allow us to predict a specific behavior only under certain conditions. If those conditions don't hold, the law doesn't tell us what will happen.
False. This is wrong. Scientific laws do predict things in a perfect world, but they also provide a model of how to predict things in an "imperfect" (i.e., real) one. The law of gravity tells us that gravity acts upon the feather and the ball in the same way. Air resistance, distance to ground, imparted velocity, and many other factors will impact how long it takes those items to actually strike the ground, but this is not to say that the law of gravity depends on air resistance. I am fairly sure that's not what Gutting is saying, but that is how he said it [he confuses the language between law and theory and model in other places, this is just his most egregious failure of logic]. You can read Cartwright's in-context quote through Lancet: "A philosopher's view of the long road from RCTs to effectiveness":
Recall the logic of RCTs [randomised controlled trials]. The circumstances there are ideal for ensuring "the treatment caused the outcome in some members of the study" - ie, they are ideal for supporting "it-works-somewhere" claims. But they are in no way ideal for other purposes; in particular they provide no better base for extrapolating or generalising than knowledge that the treatment caused the outcome in any other individuals in any other circumstances.
Of course, in real-world science, the best studies work hard to replicate results across many tests, featuring differing controls and differing factors and conditions, to try and weed the many factors that throw up false positives. A mixture of biological complexity and ethics considerations makes weeding out these many, many factors difficult in biology—especially human biology, which we have historically wanted to place above the crude analysis of natural philosophy—but to a degree we are getting there, one foot in front of the other. Is there ever going to be some perfect understanding of the human body that will give incontrovertible results? Probably not. Each organism is a complex system that is a sum of its parts and then some. The complexity explodes to perhaps an irrational state, if you what you mean by "rational" is "summable in concise, always perfectly precise and accurate rules" [hence things like LD50]. Will we get to a point where we can be 99% sure of how to address something? Yes. Probably. And then we'll probably lose it and then gain it back. On a long enough timeline, great temples to science will be built up and cast down to be built up again. Whether or not your popular press reporters ever want to accurately cover that is a tricky situation. They certainly could, but the results will often be less certain than I think the press is willing to report upon. The word "may" is the watch-word of many a scientific write-up in a local newspaper, though rarely does the text feel like it honestly convey the proper sense of possibility.
On Matters of Popularizing Science
OTHER BLOTS THIS MONTH: April 2013
---
BLOT: (25 Apr 2013 - 03:38:27 PM)
Damn, looks like someone told the weather that Panoply is this weekend...
Decided to check the weather for Huntsville, AL this weekend, to see what it would be like for Panoply, Huntsville's annual arts hodge-podge and performance showcase with carnie food, which has a tendency of bringing storms every-year [some notable exceptions include a couple of years ago, when tornadoes shut down the whole Tennessee Valley for a week though the technical weekend of what would have been Panoply was actually kind of nice, and last year, which was blistering hot]. I checked the weather forecast for most of the weekend and was unsuprised to see something like this [green = rain chance, red = thunder/lightning chancei, the far left of the graph is about an hour or two before Panoply is to begin]: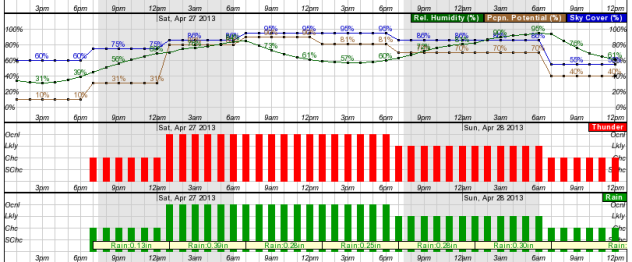 The weather situation, mind you, is still up in the air. Within minutes of taking that screenshot, the chances of thunderstorms had decreased a fair bit. By tomorrow, they may be nil or they may be even more dialed up.
Also, here is AL.com's coverage of Panoply, for the news and updates sorts.
OTHER BLOTS THIS MONTH: April 2013
---
BLOT: (24 Apr 2013 - 04:20:28 PM)
Third Person, Singular, Masculine. Present Tense. Unnamed. Destroyed by the world that is his maze. Or, my odd writing habit...
He no longer cares about such things as distance measurements, not in the same way you do, but he once did.
That's a quote from near the beginning of my nearly-horror story, "He once...". About a man in a small white room that keeps him alive no matter what, but it also deprives him from the outside world. He lives in a bubble of perfect, geometric security, and is not even allowed to go insane because he knows the room is fixing him and putting him back to right, at least right enough, every time he falls asleep. In the whole thing, he is known as "he", and it all told in the present tense, though it might be set over hours or over days. The reader has no more clues than he does.
It was written as the opening of a trilogy of stories about the way geometry and architecture can be used in horror. This nameless guy is trapped in a single room, a room that updates when he closes his eyes. In another, a nameless guy tries to deliver a package to the seventeenth floor of an office building, but every corner leads to new hallways, and he eventually becomes hopelessly trapped down this infinite maze devoid of others. The third was about a guy who gets into an elevator, and it ends up going down an impossible distance, and hours later he hears noises and sounds creeping around outside, and then the door opens and the man has to decide if he risks the outside, or if he stays inside and potentially dies. The elevator connects it to the story about the office floor, and the bright white light he sees at the end is a reference to the nameless room, so that all three men might be the same man seen from different angles, differences in fate notwithstanding.
There is probably something to be said about a compulsion to write stories in the present tense with unnamed male protagonists referred to merely as "he" with a constant stream of diversions and shout-outs to the past and potential future, as they are ground under what generally would be thought of as every day rooms and hallways. At the time I was writing them, I thought "geometric" horror would be my thing, but I think I am mostly done with it for now. I still find myself, though, wanting to write about those unnamed HEs, running around in the now, always too far inside the maze to even realize they are running inside of one.
When I recently went to write a story about a man who keeps nearly being hit by cars, and this man ends up confronting something that seems horrible but not evil, otherworldly but not malicious [though destructive], my first draft of the first few paragraphs turned him into another "he". I forced myself to name him and to talk about him outside of his own head. It was weird how weird that felt. And is he also in a maze? Sort of, though in his case it's about where the angles of things don't quite add up.
Even my brief, gonzo storyline "True Confessions of a Nighttime Librarian" didn't name the protag. He was assumed to be me, mostly, because that was half the joke (that they were me telling stories of things that really happened, stories with zombies and cultists and otherworldly portals attacking a library). At least, in general, there was never a maze. Just, you know, stacks and stacks of books that had to be meandered. And one of my favorite stories, about a man whose absence was more pleasing to his friends than his presence, finds himself so absent from his friend that his absence has no presents, well, it names people. Though, well, it was a weird one.
OTHER BLOTS THIS MONTH: April 2013
---
BLOT: (22 Apr 2013 - 11:19:58 PM)
I apparently still have a bit of left-over anxiety from our recent non-move
I had a dream last night, of which I can only remember the last bits. Somehow, we—Sarah and myself—had our stuff spread out on the floor of this large, empty room. Like a high school gym. Probably it was a high school gym. Nothing really stacked up, all spread out in grids and grids of grids. Makes me think of what they do in crash/bomb forensics, which is possibly where the image came from, a large grid of the various detritus so it can all be seen while generally kept in relative place. Then, towards the end of the dream, some gliders went overhead, and I could tell they were dropping something into a thick wood nearby. Out back. I ran to the edge of the wood and couldn't see what was going on, but Sarah walked in far enough to be out of sight, and then came running back, because it was "cyanide" [my brain went movie-logic when it came to poison] and you could this brown shadow creeping out of the woods. And then I woke up. The last sensation being basically a question of what I could stand to leave if we had to flee the gas.
So...I'm not over the physical and emotional drain from the double move. I'm just going to assume that has a few days left to go, maybe even a few weeks. The fact that Jason and Katie are moving off in a couple of weeks is adding to it. Two friends we've hung out with fairly regularly since circa 2005.* Watching them go through something similar, but more final, has resonance. Combined with the loss of rhythm and place that comes when friends move away. And, back to us, the fact that we had to wait until we could get at least a couple of new bookcases to fill in for the one bookcase we had to throw-away and another one that got re-purposed. Living out of boxes is not something that suits me, alas.
Well, this week, I plan to finally get back into blogging. Not that I have ever really stopped, I just let it defocus. Except the same defocusing impacted my other longer-concentration activities—reading, watching movies, larger projects—and I'm ready to be focused again. More about that, tomorrow.
OTHER BLOTS THIS MONTH: April 2013
---

This work is licensed under a Creative Commons Attribution-ShareAlike 3.0 Unported License.
The longer, fuller version of this text can be found on my FAQ: "Can I Use Something I Found on the Site?".
"The hidden is greater than the seen."