Dickens of a Blog
BLOT: (24 Oct 2015 - 01:17:18 PM)
But if a Look Should April Me/Dear With Your Sweet Face. The E.E. Cummings Project, Chapter 1.
Though I have gotten back into writing poetry lately, I found myself in need of a full on project to give me an excuse to play with form. An odd idea struck me, at first as something like a joke: take poetry by E.E. Cummings (or ee cummings, if you prefer) and to rewrite it into more of a traditional style with very few of his syntactic tricks (while retaining some of his grammatical ones). As I talked about the joke, I realized it might be fun. I also realized it might make an interesting opportunity to rewrite other poets' poetry into a style that might have fit something that Cummings would write.
What I didn't quite realize is that there is no simple one-for-one interpretation for a lot of Cummings verse. While some of his tricks are just parlor, there are times when his seemingly broken verse says something that could not have been replicated in more precise terms. While I strive to get better at only touching some of the meter and rhyme and syntax of his poetry as I go, for this first one I decided to go ahead and take it as set of themes and wordplays, and to retain those while expanding out the poem itself to be a little more "Doug".
For my first poem, I took Cummings' "darling!because my blood can sing" and Emily Dickinson's "Life--Is What We Make of It" and rewrote them as something of a pair. In "darling!" there is a sense of the strife of life that is meaningless as long as a "look shall april" the poet. This term is best left ambigious, but I think the meaning is fairly clear. In Dickinson's, there is an idea of about life getting meaning from Christ and Death, but by using the words "He" and "Him" instead of which concept she precisely means, it makes many of the lines open to debate. Now, I took arguably more liberties with her poem to make it vibe with my take on "darling!", in that I made it more about an ambigious relationship with the idea that Life and Death means that the question of "We" is more pertinent to the moment and cannot be put off. Many of the original words from both poems are retained, but in a way different from the original.
"But if a Look Should April Me" (by Doug Bolden, 2015-10-22, with apologies to E.E. Cummings)

Darling, because my blood can sing and dance,
And does with your least look or quiet glance,
With your any most very amazing now or here,
To every "is not" under the spring, let pitiless fear
Play host, but if a look should april me, then ghosts
Of "is not" shall be lost on paths of their own knots.

Doubting can turn men's see to stare, joy to why,
Their faith to how, strident air to limp sighs,
But if just a mere look should april me, then
Some thousand million hundred breaths shall spring,
Bright worlds born out of my blue eyes opening,
And doubt unmade makes love darkly sing.

And on those nameless battlefields, for centuries,
Armies may meet armies in bloodshed and immensity,
And hate itself, with no smaller meanness, runs
Back and forth across the years, with nothing won.
But if a look should april me, even for half a when,
Even all my "I can never" shall fall and be broken.

But if a look should april me, even for half a when,
Though such a perfect hope is where despair begins,
And I am forced to look into the forest of my mind,
And there in the mountains of leaves, seek to find
My own death tumbling sticks and twigs into life,
May my fear be stilled, a brook flowing the hills of night.
"Dear with Your Sweet Face" (by Doug bolden, 2015-10-24, with apologies to Emily Dickinson)

Dear with your sweet
face(sweet nose sweet hair sweet eyes
made of rose and caramel)I gasp
Life(is what we make of it)and
Death(what we do not know)and
Who(with whom we met We on the road)might
justify you and us
and me and We with a casual though
Who is no stranger to trust
what others might betray
And Life(but nothing except
everything)this kiss
and your questions and Death(this
And all of this that
I)suffice a moment with all other distance
For We and It and Them have traveled to
Paradise(no new mile remains)
Far and short and far again
the hours shape and preced-
ing our tender pioneer-
ing base cowards we are for stop-
ping I do not know but
Dare we not venture forth to We,?

now
The originals, Cummings

darling!because my blood can sing
and dance(and does with each your least
your any most very amazing now
or here)let pitiless fear play host
to every isn't that's under the spring
- but if a look should april me,
down isn't's own isn't go ghostly they

doubting can turn men's see to stare
their faith to how their joy to why
their stride and breathing to limp and prove
- but if a look should april me,
some thousand million hundred more
bright worlds than merely by doubting have
darkly themselves unmade makes love

armies(than hate itself than no
meanness unsmaller)armies can
immensely meet for centuries
and(except nothing)nothing's won
- but if a look should april me
for half a when, whatever is less
alive than never begins to yes

but if a look should april me
(though such a perfect hope can feel
only despair completes strikes
forests of mind, mountains of soul)
quite at the hugest which of his who
death is killed dead. Hills jump with brooks:
trees tumble out of twigs and sticks;
Dickinson

Life—is what we make of it
Death—we do not know
Christ's acquaintance with Him
Justify Him—though

He—would trust no stranger
Other—could betray
Just His own endorsement
That—sufficeth Me

All the other Distance
He hath traversed first
No New Mile remaineth
Far as Paradise

His sure foot preceding
Tender Pioneer
Base must be the Coward
Dare not venture—now
A brief note about the picture above. I went outside yesterday to take photos for a fall photo context at the library I work out. However, the day was gray and blah enough (at that time, it later got sunny again), that I was unable to do the one trick I wanted, catching sunlightly through autumn leaves. I used a few touch up tricks to try and semi-replicate in post, though.
OTHER BLOTS THIS MONTH: October 2015
---
BLOT: (13 Oct 2015 - 10:09:20 AM)
Lately, I have been dreaming of a river and dirt roads
Dreams have been a mixed weird bag for me lately. I do not remember all that many of them, but I get snatches. I remember moods from the dreams more than the dreams themselves. For some reason, a lot of the dreams lately have involved scenes from my younger days, but the present me, or someone like me. And my younger days have been transformed into a strange, epic world folded back over itself.
I have been dreaming of a river. It is nameless, but highly inspired by my days swimming and rafting and walking alongside the Sepulga River in lower Alabama. Around this river is a maze of old dirt roads. The dreams almost always take place in twilight. And along this river and those roads are large, dark buildings of no specific purpose, lit mostly by porchlights and yardlights. I travel back and forth along these roads, and visit some of these buildings—many of which contain multiudes of schools, houses, stores, and such—and though I am never alone in these dreams, I can never remember the people that are with me.
I am not accomplishing anything in these dreams. I am merely existing. No one ever calls me by name, though no one ever seems to mind me being there. I am both at the start of my journey—starting school, going off somewhere new—and somewhere in the long stretches of it. Things stalk the river and the roads, but they do not chase me. I merely must not stop and face them.
In one dream, I was floating under water, covered in fishhooks and light, alongside a flooded school that was somehow still functional. In last night's dream, I was paddling back and forth along the river, always with the sense that I was meant to be somewhere else. I do not drown. I do not even get wet. The river and the twilight horrors of the road have no power over me. I am not a god in my dream, I am merely an ink pen writing out the shape of them. I am a witness.
To better see some of the images of the dream, it might be good to see what the Sepulga looks like. I found this image on a newsstory, Sepulga River challenges through centuries: Pristine waterway unique in region: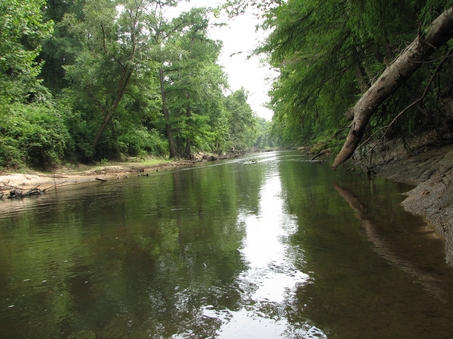 The river of my dreams, much like the Sepulga, is more a glorified creek with occasional moments of depth and danger. It winds through swamp land and rock, rarely being tainted by the nearby civilization. It is brown and muddy and beautiful in its own way.
I am sure that everyone reading this has their own interpretation of what this must mean. I will offer an alternative, one that makes a lot of sense as I am typing it. The river (and those roads, and those dark buidlings, and those people I cannot remember and who do not seem to remember my name) are me. They are not some unstructured regret of the past or anxiety about the future, they are my brain trying to make sense of all things I am, as painted in images of my youth and symbols that first awoke in me a sense of awe and fear. The morass of nameless roads and river are merely a tool to try and bring the me-that-was in contact with the me-that-will-be.
Next time I have one, I think I will try and stop and wait for the stalking things. Except, well...
"Lately all of my dreams have been a river"

Lately, all of my dreams have been a river:
Rhyme written in brown rocks and mud.
Lately, all of my dreams have been dirt roads:
Bright rain and clay turning ditches into blood.

That dark river flows swamp and hollow,
A great word of drowning in deep breaths.
That long road touches stars and clouds,
Past houses all windows and little else.

There is a legend of some forgotten place,
A laughter of children and smiling fear.
There is a legend of some forgotten Doug,
In leaves and sticks and the furthest near,

And of stalking things diving into that river,
With the sound of clicks and lonesome strings.
And of stalking things creeping down those roads,
Into the pine trees where the bullfrog sings.

But fear not the stalking things, do not give
Them power to make you stop. Do not worry
About their deer skulls nor their spidery teeth.
Do not fear them, but neither should you tarry.

I and those stalking things, let us dance,
And tell old stories of sin to one another:
Long rivers of honeysuckle and poison ivy,
Old roads full of cracked tire ruts and lovers.

I long to swim rivers, to inhale their name.
I long to drink birth waters that are my
Soul's autumn heat. I long to breathe roads.
I long to stalk the song of nameless twilight.

Lately, all of my dreams have been a river,
Flowing into the ancient pools of youth.
Lately, all of my dreams have been clay roads,
Running past those dimly lit houses of truth.
OTHER BLOTS THIS MONTH: October 2015
---
BLOT: (03 Oct 2015 - 08:36:38 PM)
On My Drunken Poetry Experience
How exactly the idea came to me to try writing poetry while drunk, I do not know. Surely I have actually done this before, though I can recall no time of doing so. I have done a few other odd tasks while drunk. One time installed a hard-drive and got Linux on it after a New Year's Eve party that everyone else was passed out at. I one time walked to a store, got quarters, came back, cleaned up vomit [not mine], and then did laundry until about dawn. I have read and played games, to varying degrees of success. But not, I do not think, engaged in poetry.
For the set up, I went to La Alameda and got a pitcher of Texas Margaritas. Drank most of it over about an hour or so. I have no idea what the drink-equivalency of that would be, but based on my levels, I would say about 8-10 drinks. Enough to get me past the buzz stage, but I was still coherent. More than I have drank in a few months, possibly over a year.
The second stage was I was going to try to work myself up into a rant. For whatever reason, it was too happy of a drunk for that. Of course the poetry is not exactly happy poetry, but there you go. They ended up being two weird poems mostly about social awkwardness, but being kind of ok with it and trying my best to be sociable.
There is only one edit below, where I left out a word I knew I meant to write. For the rest of the bits, though, this is exactly how I posted them. The first one took the longest, because at that time I was still out of it enough that I had a ton of spelling mistakes and struggled for a bit to find the rhythm of the piece. The second one came out relatively quick, or probably would not have come out at all. Below, I call them "rain" [it was raining last night while I was doing it] and "stage". In the original notes, it was "1/" and "2." That should brace you for the sort of poems that you are about to read.
Will I do it again? Nah. At least I do not think so. It was interesting to try, but as a pony it is a one-trick set-up.
Without further ado...
"rain"

Shadows and the half-beat. Let us sing 4/4 waltz, the end of reason and what shall, in truth, berate, how
might it illuminate and how might it
shape the glance in parentheses
and the anger on the sleeves of the taste

and I am going to find the eye to exist within, seeme seem seam
watch me
without, and whatever shall I feel because how can it matter when I feel struck dumb the taste of
Hello and how are you?

I WANT TO SHOUT.
I WANT TO CURSE.
I WANT TO BE THE

drops of chords in minor
FEEL ME, STORMS! I AM, NOW! Just thinking about

Smoke down the hall and my love is a curse of a mask because I cannot see what is
this is how my voice cracks, this is how I fall down, this is how
and it opens me up to scream, And am I being, am I fully?

i want to shout i want to be the

splatter catches on the window, a drizzle of sound, and I am lost inside the rage of missed
the cars with their headlights and their streets and their walks away from
my tongue catches on words that others can speak, catches on words that others can

BREATHE, me. Iwanttoshoutiwanttobethe

Hello and how are you?
I am the motherfucking rain.
"stage"

little doll on the stage, the dance of strings
and all the crowd all stairs and claps applauses
and then he bends, coughs, poignant
there in the corner the curtain closing
and puzzle shatters and the enigma pauses

and here is the story of the colors red and hue
when they rose in the sunsets and sunrises
and here is the story of blue and gray and green
when they fell into the final storm of irises

strings cut, humpty dumpty is the god of down
and the pieces damned to watch floors and ceilings
and the little doll all eye rises and awkward silence
and laugh and laugh and laugh the brilliance

there once was a man lost to space
who had a mask of marble for a face
and one day a blah blah
something something blah
and if you could. etc etc etc...someplace.

and here is the story of the words for shapes
and how the science of souls is crass geometries
and here is the story of the taste of the
faces look away into their own little universe
and the smile, so small but full of such infinities

little doll on the stage, the chance of fleeing
and this is the story of brown and dark and night
and this is the story of sunrises and sunsets
and puzzles shatter and the such bright, so
OTHER BLOTS THIS MONTH: October 2015
---
BLOT: (01 Oct 2015 - 08:01:01 PM)
On the Million-Billion Dougs
In 1995, I had a chance for a full-ride at a college that did not quite fit me, and so after one day of being on campus, I went with my gut and turned it down. The next year, I got another full ride scholarship, and set off on the path that led to where I am now. However, there exists out there a version of me that went to that other college. He made different friends, married someone else, and has another life. Maybe he is in jail now, maybe he is successful. He is me in every way but the most essential one, he is not me. To describe this dance of Feynman twins, I one day used the phrase "Million-Billion Dougs", and decided I'd like to keep it around.
What's weird is the first utterance of it that I can find is practically non-sensical: "Out there, in the millionbillion Dougs, I hope one blamed it on things getting a little too hot to handle in a latest John Grisham thriller." Turns out I had very nearly stepped on my Kindle one night and was joking about my quantum-cousins having to talk to Amazon's customer service.
Perhaps my greatest utterance came about in my wedding "vows": "I am thrust through several points, an unwitting traveler in time, my own microcosm incomplete. I stand atop a mountain, a trillion light years tall. I swim at the bottom of a sea, a trillion light years deep. Just another of the Million-Billion Dougs, my many Feynman cousins, legion and disparate, adrift. Adrift, brilliantly awake aloud in the Universe, brightly asleep like MANA-YOOD-SUSHAI, unable to hold my eyes open in a dawn of a distance inconceivable even though it is constantly painted across all the windows of this myriad dream. All those Million-Billion: some have died and some have thrived, and there but for the grace of god go I."
So, why do I use the phrase? I don't know. I like to think that for every mistake and regret I have, there was a smarter Doug who did better. And for every great thing, there was a Doug who did it worse. The infinities of my life live out there in potential, and it frees me to be myself, the one in a million-billion that has screwed some things up and did some things beautifully. For every band I do not like, there is one of the MBD who considers it a favorite. For every hobby I missed, one of the MBD is good at it. For every thing I love, another of the MBDs hates it.
None of us million-billion are perfect, but I imagine most of them are alright dudes.
Plus, one day I hope to have a convention of the MBDs, and it will be an amazing thing, with a room full of social awkward people trying to ignore themselves. Tremble and weep, world, for we are legion.
And one day, the last of the Million-Billion Dougs will die and existence will be poorer for it.
Fun bonus fact, one day I was trying to pep-talk a friend about the GRE and I told her about the Million-Billions, and "Million-Billion" ended up sticking as an occasional mild term of endearment for her. But not just her, you are all my beautiful Million-Billion. And for now we exist, and we abide.
OTHER BLOTS THIS MONTH: October 2015
---
BLOT: (19 Aug 2015 - 09:44:20 PM)
Dear Doug-Then, Ten Pieces of Advice I Can Give You Now
I had a plan to sit down and write a series of posts—at least four or five—in which I addressed "Doug-then", meaning me in my teenage years, and chastised him for various things. Upon reflection, I don't think I have it in me to be mean to myself for multiple posts. Instead, I figured I'd put all of those ideas, and more, into a single post.
Ten is an arbitrary number, most definitely. I could probably come up with dozens of things to point out, or I could probably end it at half-a-dozen. If I run out before I reach ten, what I will do is edit the post to be, you know, "Seven pieces..." and you the reader won't know about it. I may be literally writing a paragraph that will never read. How weird is that, eh?
In no real particular order...
You go on walks, daily, and during those walks you "pretend" and tell stories to yourself. This embarrasses you, because you worry this makes you weird. If only you had realized that you could write those weird and fascinating stories down, you might have been a writer at an earlier age. You eventually cotton on, but it takes a moment. Embrace your solitary weirdness, it will be one of your best friends for years to come.
It is ok to want to be a librarian. You will take a decade to figure this out, that it's what you really want, and you will be surprised when you realize that it's a job you are perfectly fitted for.
In that decade of confusion, mind, you meet a lot of people who will grow to mean a lot to you, so it's also ok to be confused from time to time. You can't help it, it is who we are. There is virtually no mistake you will ever make that doesn't end up being part of something wonderful. You are luckier than you realize, though you roll like shit when playing boardgames.
You are especially confused by girls and you will get quite depressed about it. Maybe try and actually ask a girl or two out, you know? Sure, most will say no, but that's ok. Your first week off at college, you will ask a girl out, she will say yes, an it will be a fun time. It won't go anywhere, but just think: what if you had asked others out? A night of dancing isn't a bad way to be.
Speaking of girls, stop considering Radiohead's "Creep" to be the most romantic song in the universe. An unnerving belief in your own creepiness is never going to get you laid. Believe it or not, while girls do like hearing how lovely you find them, it is actually better to also let them know you find yourself at least a little lovely. Brag on yourself some. Even when girls aren't around.
You will eventually get laid, so chill out about that, too. It will turn out you are quite good at it. Note, getting laid will not make you less confused about girls, alas.
You will one day, in a state of utter depression, start spamming your friends with poetry. Most of the poetry will be bad. You will actually learn a lot about writing poetry during this time, though. Those people who keep responding to your poetry even after months of it? Those are the good people in your life, at least the people good for you.
As you move out and start making new friends, you will feel utterly embarrassed having come from a backwoods spot and not knowing a lot about popular culture or having many opportunities. You will briefly become a habitual liar. You grow out of it, but maybe tone it down a bit.
You will suffer from mild dyscalculia, dyslexia, temporal lobe epilepsy, social awkwardness, paranoia, and depression. You will conquer all of them, so do not worry, though you will never be as good at high level physics as you like because even when you understand the concepts perfectly, the math will shift through your head like sand in an earthquake. For this, I am sorry. But see the bit about being a librarian, above, where a brain that thinks in five directions at once becomes an asset.
There will come a time when your younger brother needs you and you will find it pretty hard to be there for him. Just...you know...try. There is probably nothing you can do to stop the inevitable, but you want to feel like you made some difference.
Goodbye, Doug-then, you've passed on the torch. I kind of wish I could give you a hug, but keep this in mind: you and I, we are the Million-Billion Dougs, stretching out into near infinite probability...all those lives we could have led. We are this life, though, standing on top a mountain of time, under an ocean of space. It is ok. As ok as it can be. Goodnight.
OTHER BLOTS THIS MONTH: August 2015
---
BLOT: (16 Aug 2015 - 01:15:10 PM)
"Cicadas sing a summer song of heat -"
Despite my last post about using the I Ching as a writing prompt hinted that it had ended poorly, I decided to give it a go. Talked to a friend about taking the image from one and applying it not only in different ways, based on circumstance, but in different media, and she asked a question for me to cast about. I will not share that, it is hers alone, but the image was one of a winter solstice, where you prepare yourself for the coming year, and how it is a time of rest, preparation, and beginning again.
I gave myself half-an-hour to write the following. Originally was going to be an hour, but I decided that I wanted something that felt even more immediate. It is based, though unspoken in the poem, on the paradox that for a person working in academics, late summer is our winter solstice, the time where you deal with quiet and preparations for a new year. The image in it is of someone sitting quietly, the hours stretching out to weeks, and the cicadas singing outside, about anything that comes to their mind. It is also a bit about a poet being inside of his own head while writing poetry, obviously.
"Cicadas sing a summer song of heat -"

Cicadas sing a summer song of heat -
A folk-some song, a ditty, a paean, an ode -
With no rhyme in their voice, no training.
On the counter, my cup of tea grows cold,
My carpets are a sea of silence, my doors
Are empty words. The non-noise of modernity
Drifts about like petals. My walls are blurred,
Lines masked in fog, their rhythm teases poetry.
This hour is long, already the shape of a week,
Has lifetimes yet to go before it can end.
I sit, I smile, I smoke, the book beside me closed.
The wide hour yawns wider, a second descends.
In days to come, life will explode, blossom
And embrace itself fully painted once more -
Watercolor and oil, lilacs and lily white -
For now lovely quiet crawls across my floor.
Cicadas sing a winter solstice of time,
And in their tale is an epic song of man,
Of traveling to a distant windswept isle,
Of pouring seawater wine out onto dry sand.
OTHER BLOTS THIS MONTH: August 2015
---
BLOT: (12 Aug 2015 - 06:32:58 PM)
A rather interesting image for today's hexagram casting: A tree by an exhausted lake, a man sits under the tree but cannot move (47 becoming 58)
I have been once again studying The I Ching because back when I was into most forms of divination—tarot and tea leaves and palm reading and candle dripping and so forth—it was the I Ching that felt most like something you could use in life. They were not so much fortunes, though they are also that, as states of being and a meditations on the changing forces in life. Sure, it is a bit tied up into a certain era of Chinese society, but I truly like it.
As part of my study of it, I am trying to now cast a broad "What's the mood of the day?" hexagram, which is point of study and something like a meditation image for the day and also a writing prompt [though the intensity of doing that, poorly, yesterday may have pre-emptively spoiled this lattermost enterprise]. Yesterday's was an image of clouds covering a blue sky, and how actions are prone to destructive reaction, so no-action is required. Today's, though, man...it hit right in the belt.
The image of this one is a lake whose water has dried up. There is a trickle of water in the bottom, but the ground water and the filling streams are not flowing into the lake. Alongside the lake is a dead tree, and under it is a man. He sits under the tree because any action will increase his exhaustion. Since he cannot act, he can only inwardly prepare. The lake will refill, and when it does it will have a quantity of water above and below, so that the lower lake flowing upwards fills the one above, and the lake flowing downward fills the one below, and they maintain one another, representing something like people and situations feeding each other for the better. For now, though, it is necessary for the man under the tree to wait and to not move outwardly, but he must move inwardly, learning himself before the water returns.
Considering that the number one way I would describe my mood lately is as "exhausted", there you go. It's me, so in my mental image of the man by the lake, I picture him smiling and staring into the waste. Of course, even a dry lake bed is a monumental thing. And hey, let's focus on the waiting and resting until the better times show up.
Anyone reading it, feel free to take it as a writing prompt and run with it.
OTHER BLOTS THIS MONTH: August 2015
---
BLOT: (02 Aug 2015 - 01:21:20 PM)
A Brief Shout Out for the Microscope Explorer Kickstarter Campaign
My primary reason for giving a shout out to the Microscope Explorer Kickstarter campaign is greed: the next stretch goal is something I want, and it is damned near to getting it. I have backed it, and look forward to whatever I get from it, but it is good to be greedy, as well.
This is not the only reason for my shout-out, though. I am also a fan of the sytem. I have not played it, much, but I want to play more of it, and it is unique enough in several key ways to be different. It doesn't need my love, I feel, but I gladly give it.
What makes Microscope (LGT: publisher's site) different is that you are not roleplaying characters, but collectively roleplaying a history shared between all players. This is its main difference. Another crucial difference is that you start with the opening and closing chapters already decided, so all you are doing is adding in details, meaning that campaigns can take a couple of hours or they could take dozens, and whenever you walk way, it will be complete.
To give an example. Let's say you start with a campaign about some fantasy world that collects all of its books of magic into a single library. The opening period might be, "The Great Library of Thomas is founded on the Island of Abrexis," and the closing one might be, "The Library is found to have vanished one night." Then, in the first pass, you might add in that there was a mage war over the library, a long and bloody conflict, and that a school of esoteric magic was formed on Abrexis to try and find the rules of magic out. As you keep going around, you add more periods (broad eras), events (more specific moments that fit under the periods), and scenes (played out or narrative bits that fit under events) to flesh out the world and history. A plague across the world isolates the Library. A great king runs his kingdom with anti-magic laws and forbids his people to visit the Library. A great university opens up on an archipelago near Abrexis, and considers itself a rival organization.
To me, this is when it gets cool. Even with that much detail, one group might decide to focus on scenes related specifically to the Library. Others might focus in on the anti-magic kingdom. As you play out scenes, and ask and answer key questions to the world, the vibrant moments of history start bubbling up. Wherever any group ends their campaign, you know the history of the Library from start to finish. In real history, you never know all the details, it is only the details you want to focus on that ends up mattering to you.
In this way, you could have only a few major periods with lots of events in them. Or you can have lots of periods with only a scattering of events, and then have some events with lots of scenes. You can play out all of the scenes, are make them more narrative. Each group can play to its strengths and weaknesses.
There are a couple of basic rules. You play to various focuses, as dictated by a rotating lens (sort of like a first player, kind of a rough GM type for a round). You avoid collaboration as a player is creating a historical element, except scenes were everyone plays out characters as needed. Once added to the table, an element becomes canon. You start out with a palette that says things you want to add that might not normally be found or things you want to avoid that might normally be assumed as a given for a genre (in the case of the Library, maybe magic can only effect the four classical elements, and not humans directly).
A lot of people use their Microscope campaigns to collectively create a game world where they play. I have not done this yet, but I can see it working nicely. That's kind of why I want the stretch goal, which will focus on world-ending elements, so that we can better blend it in with Apocalypse World or horror RPGs.
It has a couple of days left, and I would highly recommend you back it at something like the $20 level, so you can get Microscope and Microscope Explorer. And even if you don't, I'd say to try Microscope itself out. I have burned out on Kickstarter a good deal, but this one of the rare ones I am enjoying getting behind.
OTHER BLOTS THIS MONTH: August 2015
---

This work is licensed under a Creative Commons Attribution-ShareAlike 3.0 Unported License.
The longer, fuller version of this text can be found on my FAQ: "Can I Use Something I Found on the Site?".
"The hidden is greater than the seen."